Regency Management Group will manage the business of your community or homeowners association to ensure smooth operation not only day-to-day, but also year after year.  We'll deal with the mundane but necessary everyday details, as well as with the long-term planning that shapes your future success. Specific property management services include:


SITE MANAGEMENT
Regency provides management personnel to assist your board and you. We'll oversee your general operations, your management staff, and your customer service and administrative functions.

Our support personnel include accountants, bookkeepers and financial support staff; customer service representatives, who respond to emergency service requests and provide phone support 24/7; and a special property inspector, provided as needed for such special projects as roofing or siding replacements.

Your property managers serve as the liaison among board members, residents and management.  We'll provide ongoing personal and telephone contact with homeowners regarding individual unit and association concerns. We'll also conduct regular onsite visits to ensure compliance with association rules, by-laws, and covenants; initiate violations letters; and follow up, as needed, always with the goal of enforcing rules fairly and maintaining harmony. 

MAINTENANCE
Routine maintenance safeguards the quality, physical integrity, and visual appeal of your property. Regency managers will inspect and identify maintenance, repair and landscaping needs. We will prepare an annual site improvement plan prior to budget development each year, including recommendations for preventative maintenance. 

We'll manage the bid and contract process, secure board approval, evaluate proposals, supervise emergency repairs and contracted work, and report results.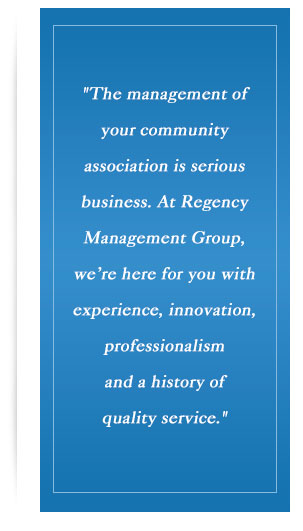 We'll use a work ticket system to process work orders for association service requests, and a homeowner notification process to coordinate work requests.

CAPITAL IMPROVEMENTS
Should your property require additions or capital improvements, Regency will handle the bid and contracting process, as with repairs and maintenance.
MEETINGS AND CORRESPONDENCE
We attend meetings and handle all your paperwork. We'll even provide a monthly chronological summary of all correspondence sent and reviewed by the association.
RECORD KEEPING
Regency will maintain and interpret association documents; implement and enforce your rules, by-laws, covenants and procedures; and recommend revisions and additions, as appropriate.
We'll maintain your owner/tenant roster, administer your insurance program and process routine claims, inventory  your property, and process violation letters and property modification requests.